SO.
SO FAR:
1) Wuthering Heights (Tom Hardy)
2) 10 Things I Hate About You (Joseph Gordon-Levitt)
3) G.I. Joe - Rise of the Cobra (Joseph Gordon-Levitt)
UP NEXT:
4) Oliver Twist (Tom Hardy)
I'm also going to try to locate:
5) Hesher (Joseph Gordon-Levitt)
6) Bronson (Tom Hardy)
7) The Take (Tom Hardy)
8) Women in Trouble (Joseph Gordon-Levitt)
9) Uncertainty (Joseph Gordon-Levitt)
10) Killshot (Joseph Gordon-Levitt)
11) Elektra Luxx (Joseph Gordon-Levitt)
12) Shadowboxer (Joseph Gordon-Levitt)
13) The Code (Tom Hardy)
14) Rocknrolla (Tom Hardy)
15) Layer Cake (Tom Hardy)
No, I am totally not obsessed with those two...
UNDER THE CUT WITH BE SPOILERS.
WELL. Tom really IS good at playing the dark, tormented (psycho) characters. Apparently people think it's the best movie adaptation of Wuthering Heights. I'd agree if I'd actually seen any others to compare it to. Tom really brings out the dark side of Heathcliff (true, it IS a massive side of him, but still) and his acting is brilliant. It was also nice to see other actors that I recognized from other TV series!
Damn, I LOVE this movie! Joe is awesome in it! His facial expressions are brilliant, especially at the beginning in the guidance counselor's office. He plays the guy-who-is-super-nervous-when-it-comes-t
o-girls very well, surely that must be pure acting? I doubt he's ever had issues with that...
Obviously he gets the girl in the end, but it's cute how it happens. Heath Ledger is another main character, and I have to say I did love his character. Especially the singing. That was awesome.
Aw, Joe plays such a cute, nice soldier! It's such a shame he turns evil...
Here are some pictures: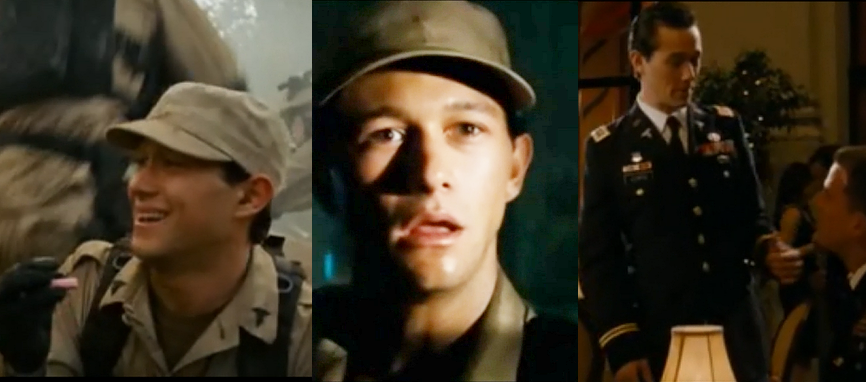 Sorry about the quality, I had to Print Screen them myself. I can't find caps anywhere, tragic!
I wasn't sure if evil!Joe (The Doctor) was actually Joe or another actor... but it was Joe! And surprisingly, as nice!Joe (Rex) he looks SO different to when he played Arthur, even though they're only a year apart.
It's a good movie and it's great to watch if you love trigger-happy movies. Even if you're just a fan of Joe, I still recommend it!
This shall (hopefully) continue tomorrow with
Oliver Twist
and Tom's character (Bill) who really rather needs a cuddle.